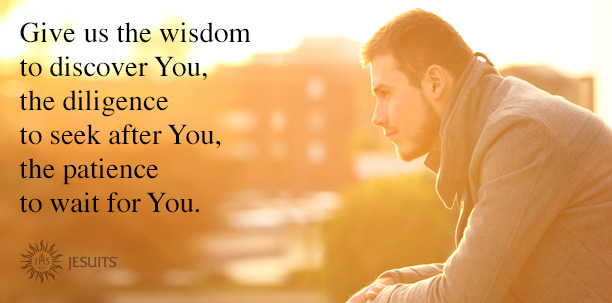 December 3, 2023
First Sunday of Advent, Saint Francis Xavier
Dec 3, 2023
Mark 13: 33-37
Jesus said to his disciples:
"Beware, keep alert; for you do not know when the time will come. It is like a man going on a journey, when he leaves home and puts his slaves in charge, each with his work, and commands the doorkeeper to be on the watch. Therefore, keep awake—for you do not know when the master of the house will come, in the evening, or at midnight, or at cockcrow, or at dawn, or else he may find you asleep when he comes suddenly. And what I say to you I say to all: Keep awake."
New Revised Standard Version, copyright 1989, by the National Council of the Churches of Christ in the United States of America. Used by permission. All rights reserved. USCCB approved.
Dec 3, 2023
How Do We Wait?
Waiting.
It's not something many of us are good at doing. In this day and age, when everything is immediate and instant, we're not used to waiting, especially if we don't know what the outcome will be. Ask anyone who has ever sat in a waiting room while a loved is undergoing surgery. Feelings of fear and dread can overtake us, making the wait for an outcome feel unbearable.
How we Christians are to wait is made clear in the words of the former translation of the Mass when the priest would pray: "Protect us from all anxiety as we wait in joyful hope for the coming of our Savior, Jesus Christ." We are to wait, then, not overtaken with fear of a dreadful outcome, but in joyful hope for the second coming of our God into human history.
As we enter into the season of Advent, may God give us the grace to wait in joyful hope for the best outcome: the coming again of our blessed hope, Jesus Christ.
—Fr. Ray Guiao, SJ, is the president and chief mission officer at Saint Ignatius High School in Cleveland.
Dec 3, 2023
Prayer
O come, Divine Messiah, the world in silence waits the day
When hope shall sing its triumph and sadness flee away.
Dear Savior! Come, come to earth.
Dispel the night and show your face
And bid us hail the dawn of grace.
Amen.
—Abbé Simon Pellegrin (1663-1745), Translation by Sister Mary of St. Phillip (1877)
Pray with the Pope
The Holy Father's Monthly Prayer Intentions Brought to you by Apostleship of Prayer the first Friday of each month.